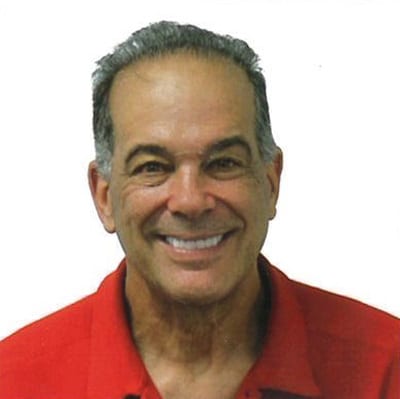 Mitchell has excelled in the Pool Industry. He has obtained Four Pool licenses and Six certifications in various segments of the Pool Service field. He knows how business works and has implemented his knowledge by creating GLOBAL POOLS, LL.C. Therefore, his main focus is to restore the honesty and integrity to the Pool Service Industry. Mitchell travels throughout the United States performing Pool Inspections and Pool Leak Detection. Mitchell works out in the filed performing Pool Service and Repairs.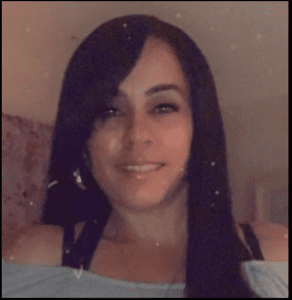 Brenda has been in the Pool Industry for over 10 years. Her knowledge and experience provide our clients with exceptional customer service. When you call Global Pools, she is the one you'll be talking with. Brenda enjoys customer service and makes our team run like a well-oiled machine. Brenda is a great asset to the team and she's continuously improving our operations to deliver quality customer service to our clients.
Brenda's technical knowledge of the Pool Industry is invaluable to our operations.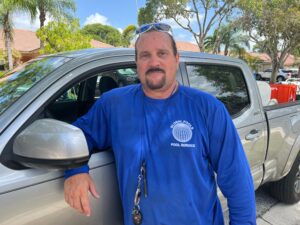 Jim is our senior technician with over 15 years in the Pool Industry. He is a tremendous asset to the team with his vast technical knowledge in servicing and repairing residential and commercial pools. Jim's input to our daily operations is critical to the smooth running of Global Pools.
Jim in an expert guitar player and enjoys spending time with his family.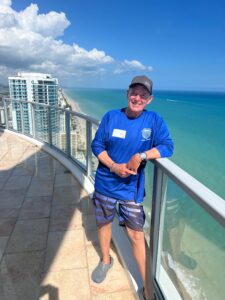 Joe is another one of our senior technicians with over 15 years in the Pool Industry. He also a tremendous asset to the team with his vast technical knowledge in servicing and repairing residential and commercial pools. Joe has a great repoire with his clients.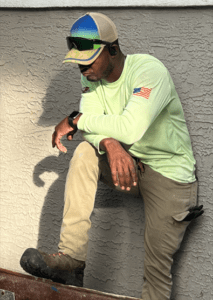 Sanjay is our lead master repair technician. Sanjay can repair and install any equipment for residential or commercial pools. Sanjay is a rare find; highly technical and analytical in his methodology and configuration of repairs. Sanjay can troubleshoot any repair issue and is relentless and passionate in his work ethics. This results in Sanjay's always doing repairs correctly the first time with perfection. Sanjay's technical knowledge is vast due to the continuing education classes he attends.
We can list the "typical cookie" cutter reasons that other companies do that are over promised and rarely kept that other companies do.
Below you'll find Real Reasons why we are a splash (more like a tidal wave) above the rest!"
Global Pools is a Licensed Certified Pool and Spa Contractor, license numbers CPC1459496,  RP25255553536, CC20-SP-21883-X, U-22433 here in the great State of Florida. It is very, very important to hire a Licensed Company if they are installing new equipment, preparing or replacing any existing equipment, or renovating and servicing your Pool and/or Deck. Make sure whoever you Choose is Licensed. You can verify that Information here; License Verification.
Unfortunately, there is not a requirement for a residential pool company to be insured (unless licensed). We use SPPA and they are A+ rated! Google "popped pools' and see why insurance is so important. For instance, most companies do not pay for the extra coverage in the event of a "popped pool". What does that mean for you? Essentially, the cost of a new pool and the Company gets to walk away. Do not take a chance with an uninsured company. We have the insurance to protect all parties concerned!
NSPF CERTIFIED POOL OPERATOR

This Certification provides us the ability to service commercial pools. The scary fact is there are not any required certifications to service residential pools. Why take a chance with something as valuable as your pool? Make sure the company you choose is CPO CERTIFIED so your pool will be taken care of correctly and to ensure healthy water.
NSPF CERTIFIED POOL INSPECTOR
This certification ensures that Global Pools will do a thorough and quality inspection for your pool. You should know everything about the condition of the pool and it's equipment when buying a home. Why risk it? Let us help your pool.
FACTORY TRAINED IN SWIMMING POOL, SPA AND DECK FINISHES
Hands on workshop focusing on proper installation for swimming pool and deck finishes.
CERTIFIED IN POOL START-UPS BY THE NATIONAL PLASTERERS COUNCIL
This Certification ensures that Global Pools has verifiable industry knowledge and hands-on experience to provide a quality Start Up for in-ground swimming Pools and Spas using the National Plasterers Council approved start up methods. The National Plasterers Council has established the industry's standard for the start-up and care of plastered Pools across the globe.
View our Start-up Certification here!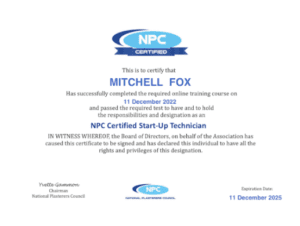 FLORIDA SWIMMING POOL ASSOCIATION MEMBER
Global Pools is proud to be a member of the Florida Swimming Pool Association! There are strict requirements for an applicant to be granted membership and we are certainly glad we met them. Not just any body can be a member due to exclusivity, but we are!
POOL & HOT TUB ALLIANCE MEMBER
The POOL & HOT TUB ALLIANCE (PHTA) was formed in 2019 to bring together the two largest organizations in the Pool Industry, the Association of Pool & Spa Professionals (APSP) and the National Swimming Pool Foundation (NSPF). Through education, research, responsible legislation and outreach, PHTA works to keep Pools safer, keep Pools open, and bring more people to water for happier and healthier lives.
JACK'S MAGIC CERTIFIED STAIN SPECIALIST
Global Pools Service uses Jack's Magic Stain products. Jack's Magic is renowned for stain identification and removal products. Each stain requires a different treatment process to rid of it. Don't let just anyone come treat your stains. Exposing your surface to certain chemicals while treating stains can create completely different stains! Don't take that chance. We know how to IDENTIFY, REMOVE and PREVENT STAINS and DISCOLORATION on Pool Surfaces.
View our CSS Certification here!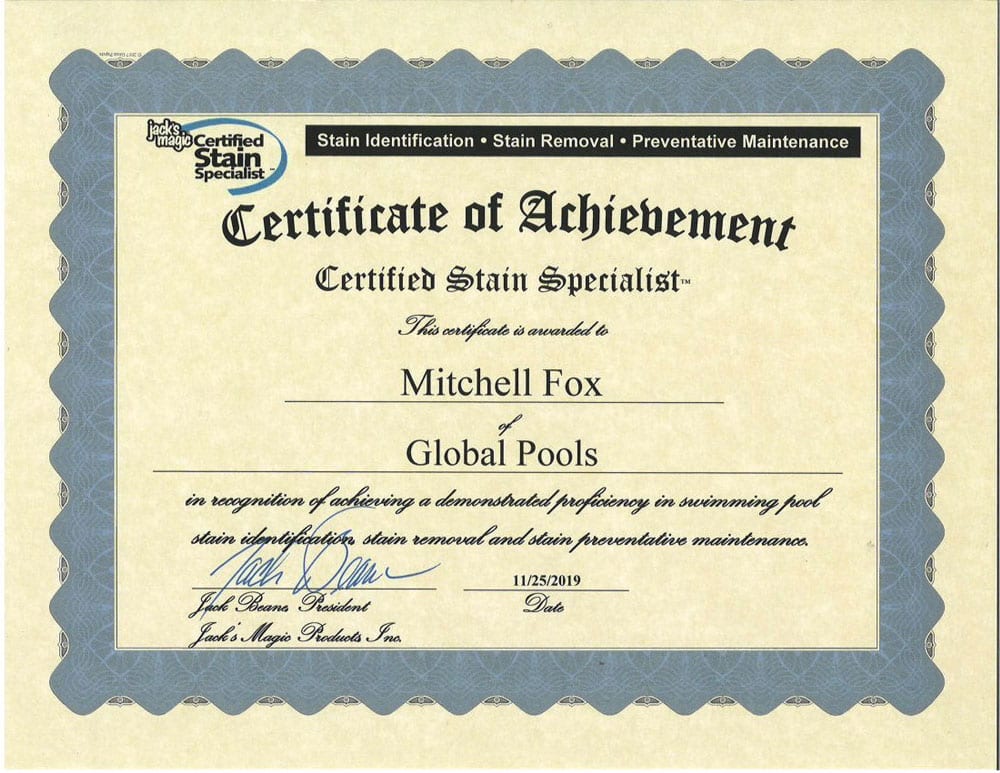 STENNER FEEDER PUMP CERTIFIED TECHNICIAN
STENNER METERING FEEDER PUMPS are utilized in COMMERCIAL POOLS to regulate the amount of chemicals (usually Chlorine or Acid) that are in a separate container are feed into the Pools return lines that are located in the Pool Pump Room.
STENNER CLASSIC SERIES PERISTALTIC METERING PUMPS are mechanical and during their service life will require scheduled maintenance.
GLOBAL POOLS IS CERTIFIED BY STENNER PUMP COMPANY IN THE REPAIR OF STENNERS PERISTALTIC METERING (FEEDERS).
Our STENNER FEEDER REPAIR SERVICES INCLUDES: QUICK turnaround time from the pickup of your STENNER FEEDER from your facility, EXPERT REPAIR, and QUICK return of your STENNER FEEDER TO ITS OPERATIONAL STATUS.
View our Stenner
Certification here!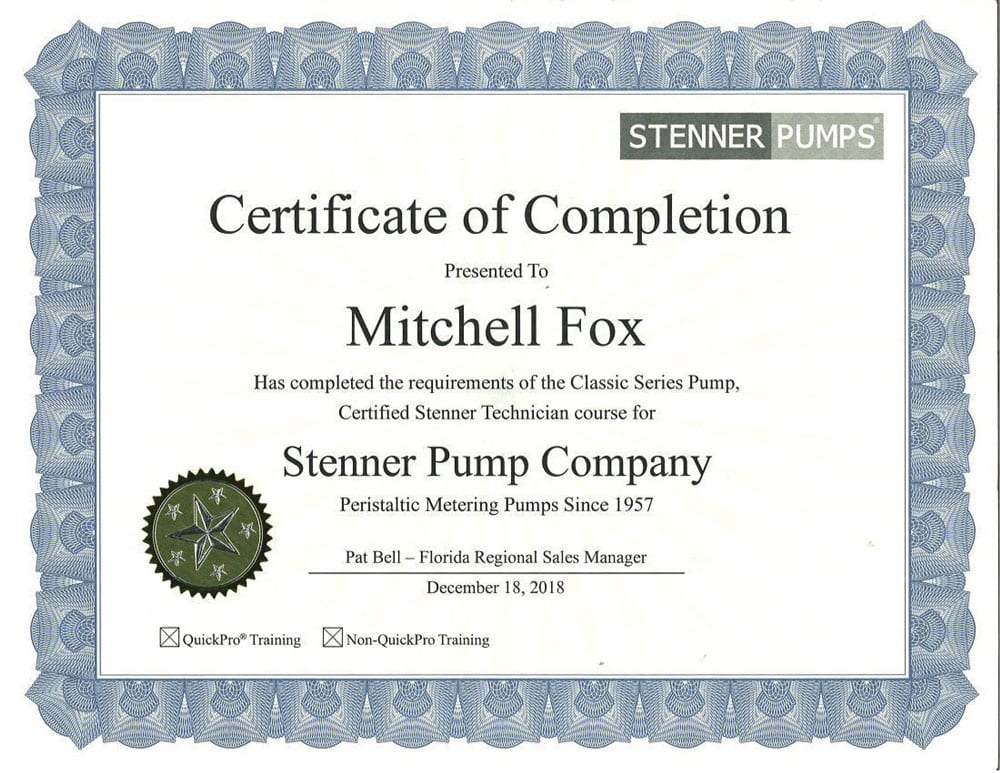 We know you won't always be home when we come to service your pool. Rest assured, once we leave, you will be emailed a summary of the work done along with a time stamped photo of your clean pool. Have peace of mind, you are getting what you are paying for, but more importantly, you will know exactly what is going on with your pool at all times!
Contact Us! We would be happy to forward you a sample of the report you will receive each week.
Not being able to get a hold of your Pool Company when you need them is terribly frustrating. We always tell our customers that the only time we will not answer the phone is when we are sleeping! In the rare event we do not answer you instantly, you will hear from us in under an hour when the message has been received. That is the Global Pools difference!